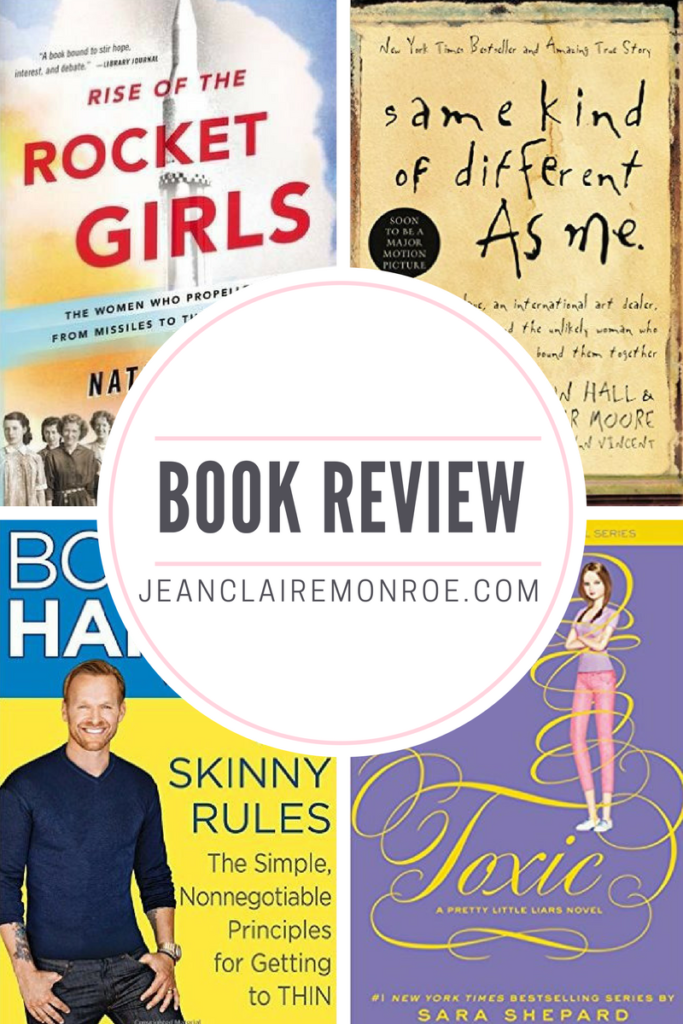 Yep! It's that time again. My favorite post of the month!
I love reading, and I love sharing what I read with you. And this month has the sweetest novel, the rules on how to be skinny, a series you have to read, and my most favorite of all – a biography of the space age!
You've all heard that I am in love with aerospace. I was even an aerospace engineering major for exactly one day!  (Music won.) I should probably consider a career in PR for NASA, or maybe an aerospace historian. I just love it that much! Anyway, I was looking forward to reading this book about the Rocket Girls, the women behind the weapons of the war and, of course, the space rockets. This story highlights various women who did the actual design and engineering work of the craft, so it's empowering and gives a behind the scenes look at what they experienced during the Space Race and Cold War.
I haven't been reviewing the Pretty Little Liars series on the blog (because there are 18 books!), but I wanted to touch base and let you know I just finished book 15. One to go! I like the books for different reasons than the TV show. In fact the story lines are completely different. If you are a fan of the TV show, I encourage you to give the book series a chance. It's double the A, and double the crazy. In fact, Ali is quite insane in the book. You need to read it!
A dangerous, homeless drifter who grew up picking cotton in virtual slavery. An upscale art dealer accustomed to the world of Armani and Chanel. A gutsy woman with a stubborn dream. A story so incredible no novelist would dare dream it. It begins outside a burning plantation hut in Louisiana . . . and an East Texas honky-tonk . . . and, without a doubt, in the heart of God. It unfolds in a Hollywood hacienda . . . an upscale New York gallery . . . a downtown dumpster . . . a Texas ranch.
Gritty with pain and betrayal and brutality, this true story also shines with an unexpected, life-changing love.
I've shared about my love for Jillian Michaels on The Biggest Loser, but I haven't really fell onto the Bob Harper bandwagon – until now. This guy knows his stuff, and his credits speak for themselves. I've been training in long-distance running since January, and I've learned that what I eat affects my performance. I really enjoyed his insights into nutrition and proper exercise. 
*********************
My "TO READ" pile is probably up to 100 books by now, but I want more! What are your favorites for the month? Any suggestions for me? I'd love to hear from you in the comments!