Happy Monday!
"Let's Talk…"!
This month we're talking about…
Mom!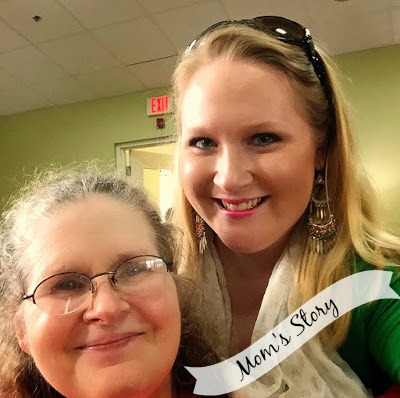 My mother's story is quite unique. Sad. Funny… Like I said, unique. She was diagnosed with Alzheimer's disease in her early 40s due to some odd motor skill impairments and detachment. However, she never really experienced any memory loss which is classic Alzheimer's. After many years of questions, and let's be honest, resentment, we found out that she did not have Alzheimer's. She actually has Vascular Dementia. I will spare you the scientific details, but I will just say this is stroke induced – and we never knew she had a stroke! I began losing my mother at the early age of 14, and I've been one of her primary caregivers ever since.
My sweet mom and baby JC in 1984! I still look just like that without makeup on!
Here we are together for Easter 1987. She rocked the 70s and 80s fashion!
It doesn't get any sweeter than this!
In 2010 my mother was no longer able to walk or bear weight at all. It was actually her idea for us to put her in our local nursing home so she wouldn't be a burden on us. She was never a burden, but we did place her due to the fact that we couldn't pick her up every time she needed it. She was a dead lift. Fortunately, our local nursing home is VERY nice, clean and loving. You can read more about my mother's journey with her unique form of dementia in detail 
here
.
Mom gets to attend our community "Senior Prom" yearly, and this theme was a sock hop! She won best costume, and since it was her birthday, the swing band actually sang "Happy Birthday, Karen" to her! She had a blast!
Just sitting around taking selfies!
Her facility is so pretty. Don't you like that wall color? So soothing.
Here we are at her family Thanksgiving lunch!
Mom was elected Queen this year, and here she is with Daddy at her coronation ceremony waiting to be crowned!
She always knew she was the queen, but now she has the crown to prove it!
The whole Monroe family – including Peanut! – Christmas 2015!
(Gotta love south Mississippi. We can wear t-shirts and shorts on Christmas Day…)
****************
I hope you enjoyed "Let's Talk" today! I just love my sweet mama, so I'm glad I could share a little about her with you! I'd love to hear from you in the comments!