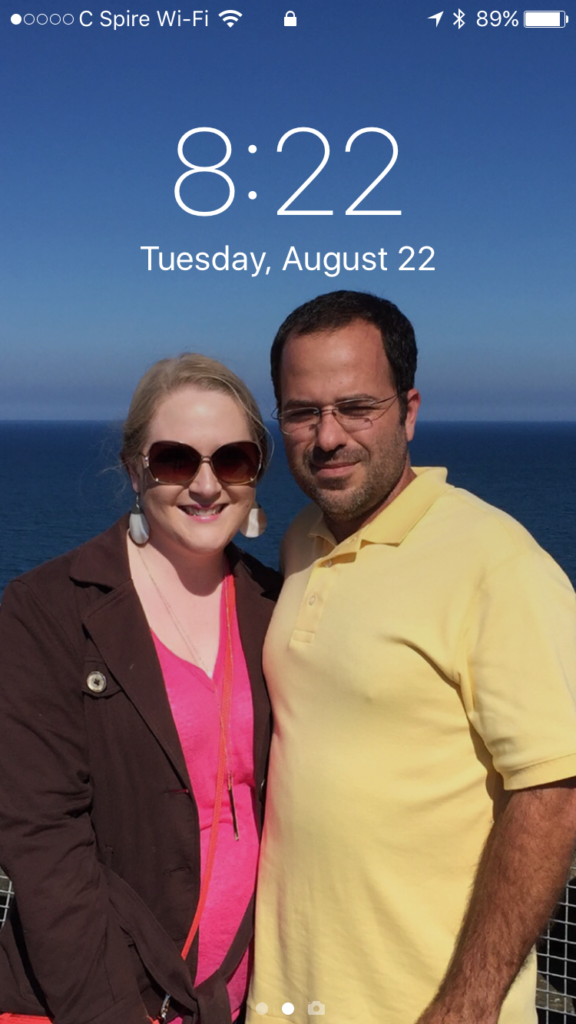 Confession – I want to know what's on people's phones!
So many people practically live on their phones these days. I mean, we roll out of bed to grab our phones to turn off the alarm. Some people take the opportunity to immediately scroll Fox News or Twitter. It just goes downhill from there. I don't think I'm on it it that much, but I'm on it enough. That's why I thought today we could have some fun talking about what we have on our phones!
(The home screen photo above is me and Judson at the North Sea in Scotland!)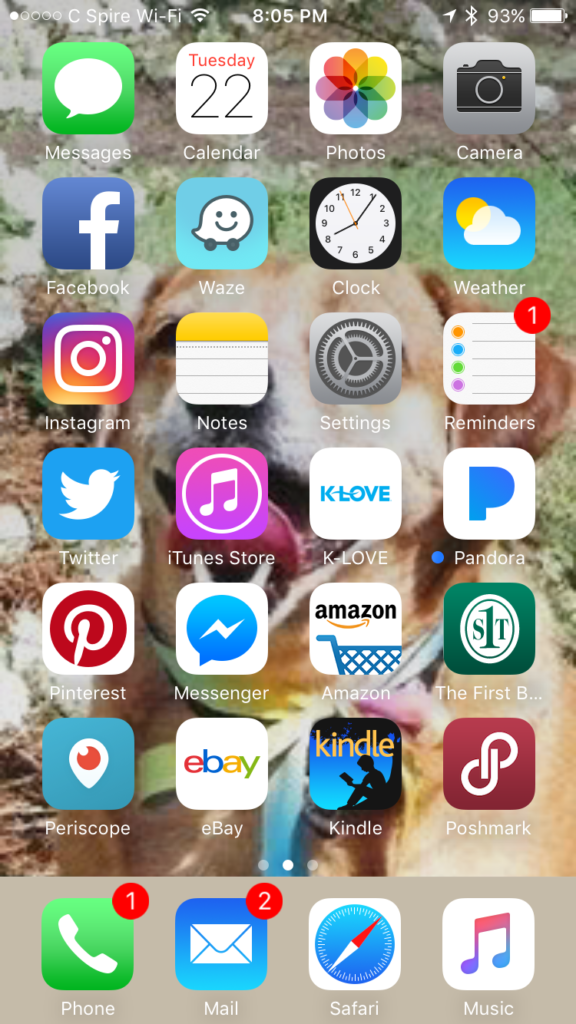 Screen One
That cute little puppy in the background is my sweet Chandler that passed away. I love seeing that smiling face every day!
(I'm skipping the generic apps that come with the phone – camera/weather/etc.)
Facebook – No explanation needed. Ha!
Waze – My favorite navigation app. It often works when and where Google maps cuts off. I'm on the road so much for work in rural areas that I have to have a reliable GPS.
Instagram – My favorite way to kill time!
Notes/Reminders – These come with the phone and I use the mess out of them. I also have Evernote for my writing and ministry work, but these two basic apps take up less storage space for all my reminders like "register for classes" and "Peanut's medicine".
Twitter – I would say I use Twitter the least of all social media platforms, but I do enjoy it. It's much easier than following the news, and you can use this platform to quickly and efficiently send out a word of encouragement.
KLOVE – I listen to this app every morning when I'm putting on my makeup and doing my hair. It's a great way to start your day with positive and encouraging music and energy.
Pandora – I personally like Pandora best for streaming music. I have tried I Heart Radio and briefly looked at Spotify, but I just prefer Pandora. My favorite stations are Jimmy Eat World, 80s/90s/2000s pop, Yoga (for relaxing music and sounds of nature), and all things Christmas!
Pinterest –  Pinterest needs no intro. I love it!
Messenger – The Facebook Messenger app comes in handy if you need to message someone whom you don't have their number. I don't message a lot, but it's there if I need it.
Amazon – Because duh! I'm a book hoarder and I'm constantly watching my list for price markdowns. It makes it way to easy to spend money!
The First – My bank app.
Periscope – I confess that I don't use this app much anymore. I kinda forget about it. Do you guys use it much?
eBay – I used to eBay a lot more than I do now, but I love to browse for my favorite things to collect – NASA memorabilia!
Kindle – To read my books when I have a few minutes here and there, but I so prefer a real book. I have a Kindle Fire that I use a lot, but I only read it when I'm on the treadmill.
Poshmark – I've menitoned Poshmark before on the blog. I love it! You can find great deals on designer pieces (and other equally amazing things) and you can make a little $$$.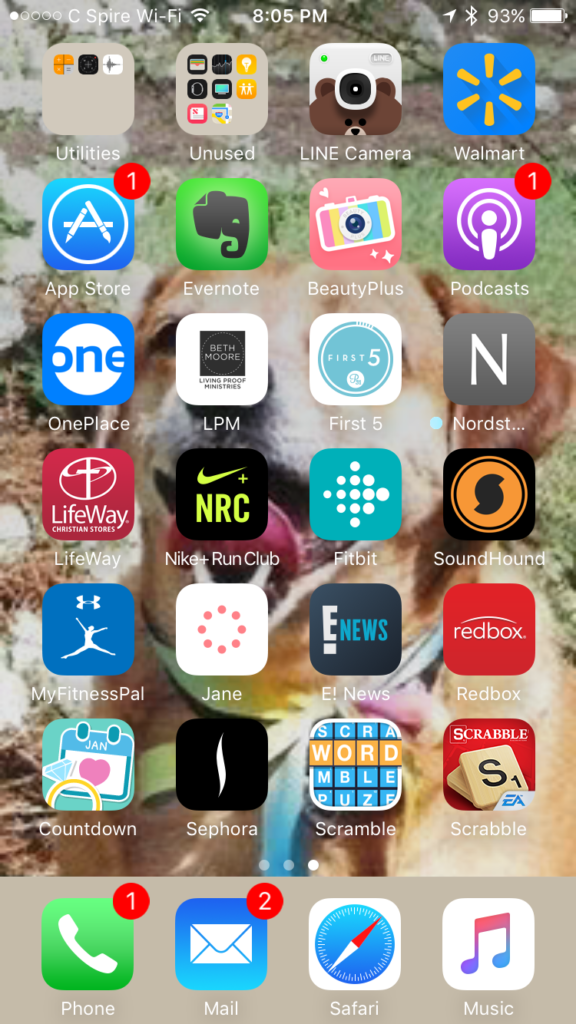 Screen Two
Line Camera – This is a good photo editing app for me because I can blur out people's faces (like other residents at Mom's nursing home if they're in the background). It also has good filters if I feel like using one.
Walmart – I use the Savings Catcher thingy that Walmart promotes. I scan every receipt and get a few cents to a few dollars back from every purchase. You net these refunds on the app and then cash them in for a gift card/certificate. I receive $20-30 back per year. Not that much, but you never know. I received $7 back on one trip and that hooked me. It may be a hassle for you, but I like it.
Evernote – I use this app for writing down message topics, encouraging tweets, and planning out blog posts. I like how you can sort everything into little folders and subfolders. It's super organized which I need!
Beauty Plus – Another good photo editing app.
Podcasts – I am a big fan of podcasts. I think I will do a post on them soon!
One Place – A Christian/evangelical app that streams many different writers and speakers in one place (pun intended). I particularly like Kay Arthur and her Precepts for Life series that she's been doing for years and Anne Graham Lotz's messages.
Beth Moore/Living Proof Ministries – All of Beth Moore's messages and studies with video. You NEED this app on your phone too!
First 5 – A five minute bible study app brought to you by Proverbs 31 Ministries.
Nordstrom – So I can continually add to that eternal wish list…!
Lifeway – You know I'm always book shopping, and this app has coupons!
Nike Run Club – I like this app because it tracks your runs/average speeds/and where you are while you're running. It also works with your music and plays it through the app.
Fitbit – To synchronize with my watch and monitor my activity.
Soundhound – This app doesn't get used that much but I have to have it when I hear a song on the radio that I can't remember the name of or the artist. Things like that drive me crazy! With this app you can hold your phone up to the sound and it will listen and give you the title, artist and details.
My Fitness Pal – To track calories and weight loss.
Jane – This app is kinda like a boutique app. You can order from many different vendors all at reasonable price points.
E News! – Mindless reading for when you need to kill time.
Redbox – I'm so glad I found this app. Judson and I really like Redbox and this app lets you rent what you want and pick it up without having to search the box, and if you don't pick it up you aren't charge. Win – win. And they send you emails with free rental codes. If you Redbox, you really need the app.
Countdown – This app gives you a countdown to important dates that you're looking forward to.
Sephora – Something else that makes me spend money.
Scramble – One of two games that I actually have. I don't care for games too much. This one is like a word search.
Scrabble – You can play the computer or another player. It's okay.
I'm always downloading apps then deleting them to save storage. Then I redownload some and delete some that I kept before. I probably need to upgrade my phone to one with more storage space, but until then I'll continue playing with my apps. The following are a few that I've had and deleted, had and deleted:
Piano
YouTube
Netflix
Amazon Video
The Bible
(Don't judge me for deleting this one. It takes a lot of space and I always have one on me or in my car anyway.)
Jillian Michaels
Fox News
(Their Twitter is just as good and informative!)
So I'd love to hear from you. What are your favorite apps? Is there one out there that I just need?
Have a great rest of the week!