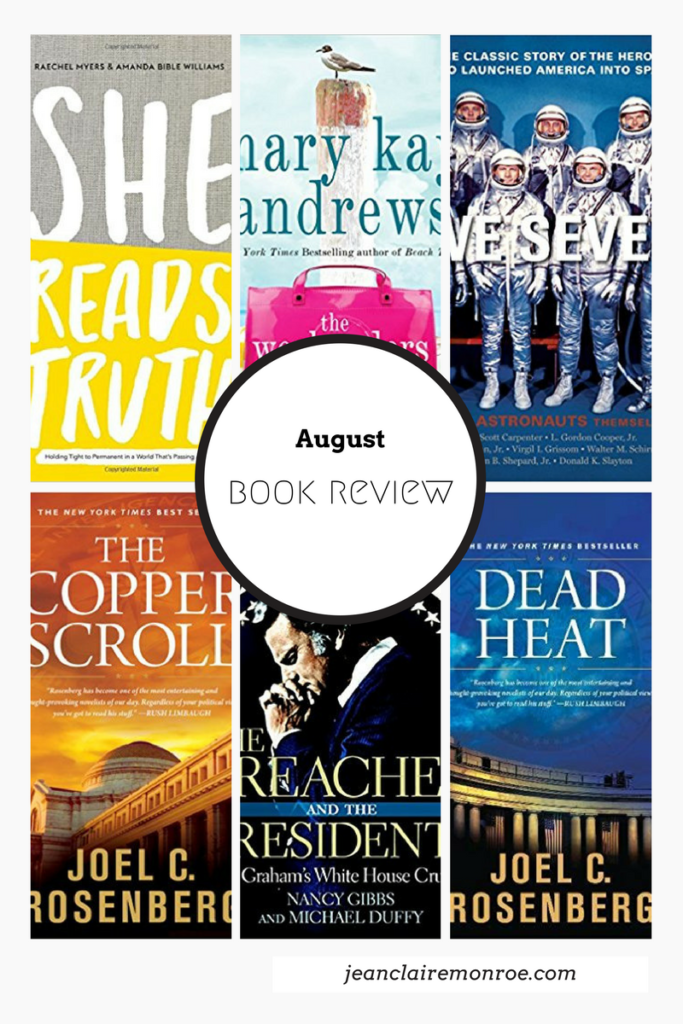 Book Review Day!
My favorite post of the month – and I have some awesome books to share with you today!
But first I have a confession. I've actually been moving the past few weeks (surprise!) and I have made six trips of books. And I have two suitcases and two boxes left to go. I told y'all I am a book hoarder, but whoa. That's hundreds of books.
And I want more!
I suppose I could download more to my Kindle, but it's just not the same. Do you guys have any serious feelings about Kindles vs. Books? Anyway, as long as I read, the more recommendations I can give to you. That's a perfectly good reason to feed my addiction, and hey, it could be a worse addiction you know!
I mentioned my new love of Joel C. Rosenberg in my last book review, so I finished the series. The Copper Scroll is book 4 in the series, and it definitely kept me interested. Do you know the stories of the Dead Sea Scrolls and the Copper Scroll? If you enjoy theology and bible study I would definitely suggest you do some research. You can find my personal choice of the Dead Sea Scrolls here. The Copper Scroll takes you through intrigue, suspense, and a little horror. I LOVE this series!
This is book 5 and the final book in the series. Wow. Just wow. I can't really share more. Read it!
I read my first Mary Kay Andrews last month and really enjoyed it, so I picked up The Weekenders. What I thought was going to be a simple, summer beach read turned out to be very intriguing. One of the main characters dies right away and the mystery just unfolds from there. It is fun and light, but it's also going to make you turn those pages!
My love for NASA runs deep, and it all began with these guys – the original Mercury 7 astronauts. (My personal favorite is Gus Grissom.) This book is written by the astronauts, and they tell the story of the program's beginning, how they were recruited, and their personal story of being in space. If you like that kind of thing it's awesome. But not all of you are space nerds!
The Preacher and the Presidents
While this was a slower, deeper read, it is one I highly recommend. I love Billy Graham, and I love politics. This book was the perfect cross between the two. The relationships Graham shared with the presidents dating back to Truman is truly inspiring.
I am a big fan of She Reads Truth. I use the app, the studies, and have listened to them on various podcasts. This book shares their stories of how they fell into ministry and the beautiful work they have since created. These girls love scripture and teach it expertly. It's a great read.
********************
That's it for this month. Let me know your suggestions and comments for some new reads!