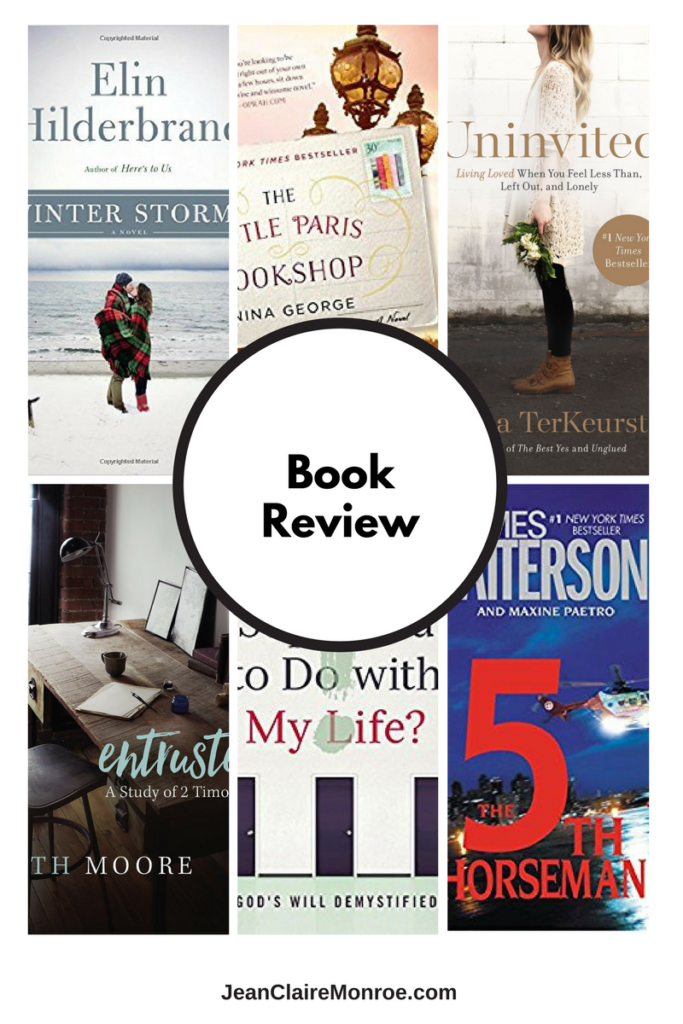 Another year, another month, and another book review!
This year we are going to be linking up with Narci at Grace and Love Blog to share our book reviews with each other and our followers. I'm super excited to see what everyone recommends!
Book 3 in Elin Hilderbrand's Winter Street trilogy was the perfect/tragic ending. Weddings, baptisms, prisoners of war reconciliations, it had it all. I love Hilderbrand's books (see my 2016 book review!), and this trilogy does not disappoint.
I was so looking forward to this book. I've had it on my wish list for quite awhile. So… the beginning was great, and it ended so well! The middle was meh. You have to stick with it, friends, but it's a great story. It's based on the thought that a book can mend/teach/bring together all good things.
This one is by far Lysa's best book! She spoke directly to my most wounded parts: fear, rejection, disappointment. Failure. This book reminds us of God's amazing and unfailing love that we know is there but never really know till we accept it. We are loved. We are chosen. We are His.
I've picked up where I left off in the Women's Murder Club series with book 5. Not my favorite, but I love the characters which make me keep going. This one centers around patient deaths at a hospital. I've spent so much time in the healthcare industry that this one scared me. And they place these freaky little buttons on the deceased's eyes. Gives me the heeby jeebies.
What Am I Supposed to do With My Life?
Have you ever felt completely bumfoozled about what to do next? I have, many times. What I love most about this book is that it taught me that it's more about who I am rather than where I'm going or what I'm supposed to do. I picked up this book on a whim in the bargain section at Lifeway, and I was pleasantly surprised. You never know which books will influence you most.
I love Beth Moore's teachings! Always have. And I was so excited to dive into her study of 2 Timothy. It might be my favorite since Breaking Free. I've ready 2 Timothy probably a dozen times, but this study makes me really read it. I also enjoy her daughter Melissa's break in messages on deeper theological and eschatoligcal studies. Maybe that's just my thing, but all in all, a FABULOUS study.
*******************
I think I've started this year off with a bang! Any suggestions of books to add to my list?