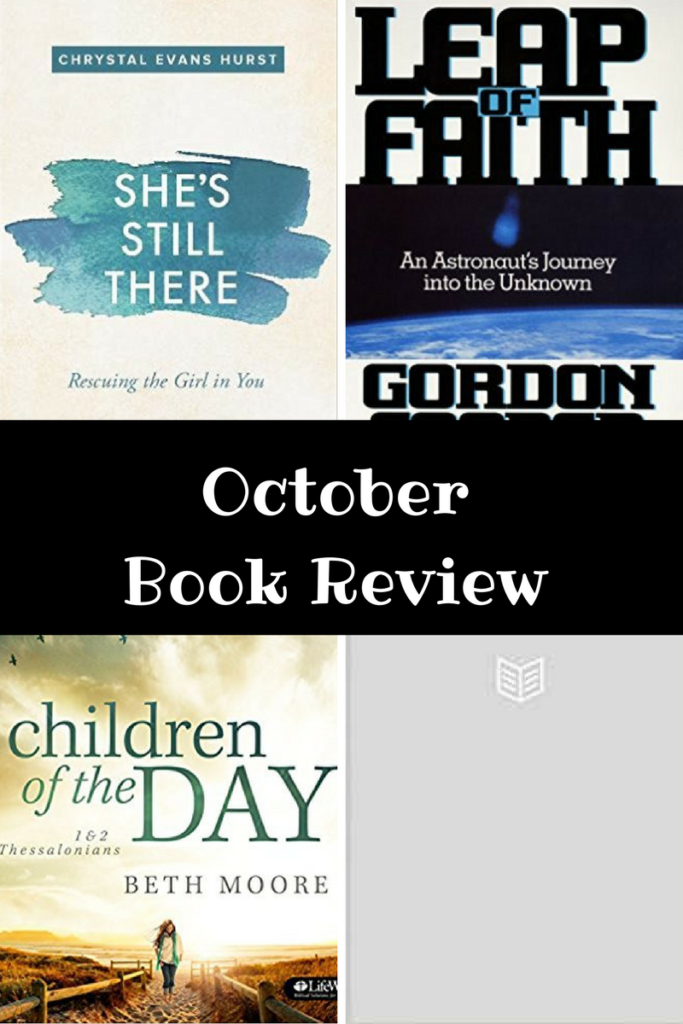 Hey, Hey, Hey! It's Book Review Day!
If you're not a reader be sure to come back tomorrow. I will be recapping our "October O' Fun" along with tons of Halloween happiness. If you're a reader, I've got a few great suggestions for you!
Yep, I'm still on my astronaut/NASA kick! I am a sucker for the Mercury 7 astronauts and their biographies. I have a stack of astronaut/NASA figure books waiting to be read. Leap of Faith was written by Mercury 7 astronaut Gordon Cooper. I like him for several reasons: One – he's real and down to earth. He's not afraid to discuss silly topics such as UFO questions. He also tells great stories about his friends including Gus Grissom and Wehrner von Braun. I just love hearing about life in the 1950s-1970s. The Space Age just fascinates me, and to hear about space from somone who has spent several days up there gets me every time.
Wow! Each and every one of you needs to read She's Still There by Chrystal Evans Hurst. It's simply amazing. Each of us has had hopes and dreams get crushed during our lifetimes. Life is what happens when we're busy making other plans. Can we get back to the lives our souls yearn for? You betcha! This book is so heartfelt. You can feel every emotion Chrystal is trying to convey. If you feel like you've wandered away from the life you wanted to lead, I can't encourage you enough to pick this one up!
This was my latest devotional. I don't like to read these as they come out while every womens ministry in America is absorbed in them. I like taking my time to think through what Beth writes. I don't really care to hear how this is affecting others or what they're learning because I will then end up comparing my experience to theirs in some way. This study is a couple years old now and was everything I hoped it would be. A little Paul, a little good news, a little prophecy. We are born to live in the light, in the day. This study keeps you on the right path, the lighted path through Scripture, reflection, and prayer. An absolute must read for all women!
She Reads Truth Bible (CSB Translation)
I have been a fan of She Reads Truth for a long time. Their devotional plans and app are awesome. There's not a lot of "study" with someone writing their thoughts on the subject. It's simply a plan to read scripture. That's it. No gimmicks. No daily infographics with some author's quotes on them. I read the biography by the founders/editors of She Reads Truth and reviewed it last time. This is their new study bible. You need to flip through the bible to fully understand how good it is. Follow this link to Amazon so you can look at it. It's a great companion bible to your other study materials or can be used alone as a study bible. I'm really enjoying it, and I know you will too.